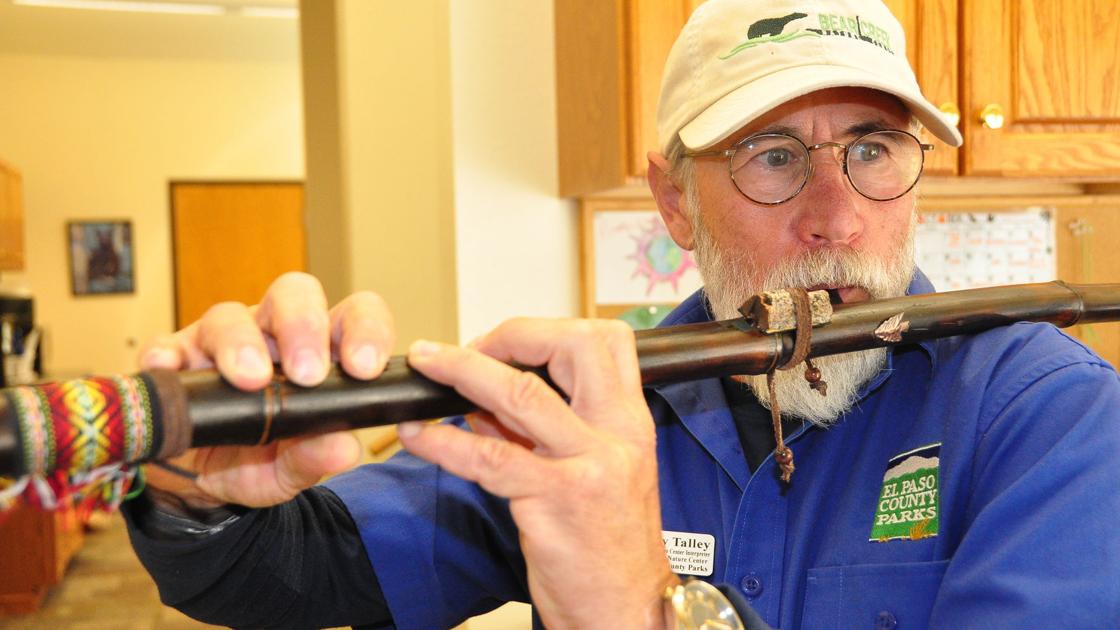 The Music Lover Keeps the Native American Spirit Alive Through Flutes | Woodmen Edition
The Native American flute is known to evoke images of the Wild West, a wolf calling out for its mate or an eagle silhouetted against a fiery sky painted red.
No one knows this better than Andy Talley, who for a quarter of a century kept the spirit of the Native Americans alive through his handmade flutes. Talley wants to raise awareness of these ancestral music makers and thinks that sharing his knowledge with the community is a good place to start, he said.
"I want the community to embrace and appreciate this interesting, centuries-old culture," Talley said of his collection of approximately 23 flutes.
Born and raised in northern Illinois, Talley is a seasonal interpreter for the Bear Creek Nature Center. As a performer, Talley, who holds a bachelor's degree in biology and a high school education certificate from Lewis University in Romeoville, Ill., Interacts with visitors to the BCNC and assists with the maintenance and development of the exhibits. .
Sporting a snow-white beard and possessing an encyclopedic knowledge of nature, Talley neither reads nor writes music. With the exception of being able to peck "Amazing Grace" and "Silent Night" on the flute, he does not play a musical instrument.
"I grew up with old school rock and roll and have always loved Native American flute music. But I am not a trained musician. I couldn't tell you the note I play when I play it, "said Talley.
Talley was inspired to create his first flute while working at the Isle a la Cache Museum in Romeoville over two decades ago. Located on an island in the Des Plaines River, the museum educates visitors about the history of the fur trade in Chicago and Will County.
A hint of nostalgia in his voice as Talley recalled how one of his colleagues played several instruments, including the Native American flute, as part of his historic performance. "I loved the look and sound of these flutes and was interested in creating one," said Talley.
Talley read books and searched the Internet to learn how to build the flute. An accomplished woodcarver, he examined, measured and studied the flutes of his colleagues and discovered the rest on his own. Producing the first notes of an instrument he created was one of Talley's greatest sensations, he said.
"I didn't know if I could learn to play it; I just wanted to try and sculpt it, "Talley said.
Talley's talents as a sculptor are unmistakable. Dozens of animal figurines and canes settle into her home, where the combined scents of ash, cedar, pine, spruce and walnut enhance her creativity.
"Not all of my flutes are made from lumber bought from a lumberyard. Some were made from fallen branches of trees in my own backyard. I also worked with river cane and bamboo. I like working with cedar because it has great sonic resonance and smells great, "said Talley.
According to Talley, the smaller flutes are about seven inches long and half an inch in diameter, while the larger models extend over 30 inches in length and three inches in diameter. A black and white spotted Native American court flute is his favorite, he said.
Talley takes a deep breath and blows the flute, its distinct sound reminiscent of Native Americans celebrating a successful buffalo hunt through song and dance. "Generally speaking, the smaller the flute, the higher the pitch, and the taller the flute, the lower the pitch," he said.
Talley said he does not create his flutes for fame or fortune, but for the love of the instrument. It takes about a week to make a flute, although Talley spent anywhere from two hours to two years making a single instrument. Most of those he makes, he trades or gives as gifts. For those it sells, prices range from $ 50 to $ 200.
"The prices depend on many factors such as the size of the flute, the material, the intricacy of the design and how much I love you," Talley said with a smile. "Sometimes I create them just for fun."
Contact Talley by email at [email protected]