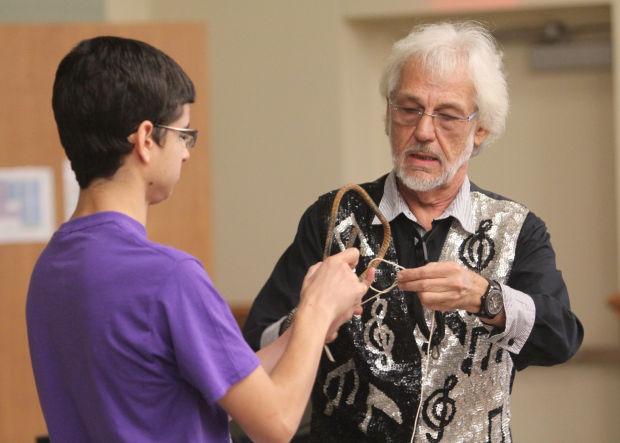 One man destroys another's musical instrument | Community
"Music is everywhere, and any object, including junk, can make music," said Dale Colgrove, performer and music teacher, as he played a tune on a straw flute.
Combining science and music, Colgrove entertained the crowd at the Stewart C. Meyer Harker Heights Library during Wednesday's Greychurch Science of Music Education show.
A man-orchestra and composer, Colgrove played all instruments, including two recorders at the same time.
Over 80 children and many adults sat with fascination listening to the sounds coming from its array of 30 instruments. With a collection of homemade and professional instruments ranging from a cigar box banjo to a three-footed recorder, he performed movie-themed songs and old classics while explaining musical theories.
"Anyone can play music, but you don't know it because you think you need a big, expensive instrument, but you don't," Colgrove said.
Alwin Collado, a library volunteer, participated in a music experiment using string attached to a piece of steel rebar. Collado held the rope up to his ears and when Colgrove hit the metal, the sound went up the rope.
"It felt like a strong bong in my head," Collado said.
Violinist Asher Dunton never imagined playing the steel rebar.
"Most people would never see waste as a musical instrument, but he explained how easy it is to do something," Dunton said.
Colgrove learned to play the harmonica on his own as a child and never stopped making music. Currently, he is a conductor in the Arlington Independent School District and collects the musical instruments he uses in his shows. He travels across the state hoping to inspire future musicians and performers.
"In many school districts that don't have music programs, kids are starving for exposure to the arts, and that's one way of trying to fill that void," he said.
Emily Haurane brings her three kids to the library's Wacky Wednesday events every week and thought this show was one of the best.
"It was wonderful to see so many different instruments that you won't see every day," said Haurane. "It takes you off the beaten track when it comes to music. "
Next week's deposit is a pet party from 9:30 a.m. to 11:30 a.m. Wednesday at the Harker Heights Animal Adoption Center, 403 Indian Trail. Participants will visit the center for a tour, where they will enjoy crafts, inflatable houses and face painting.