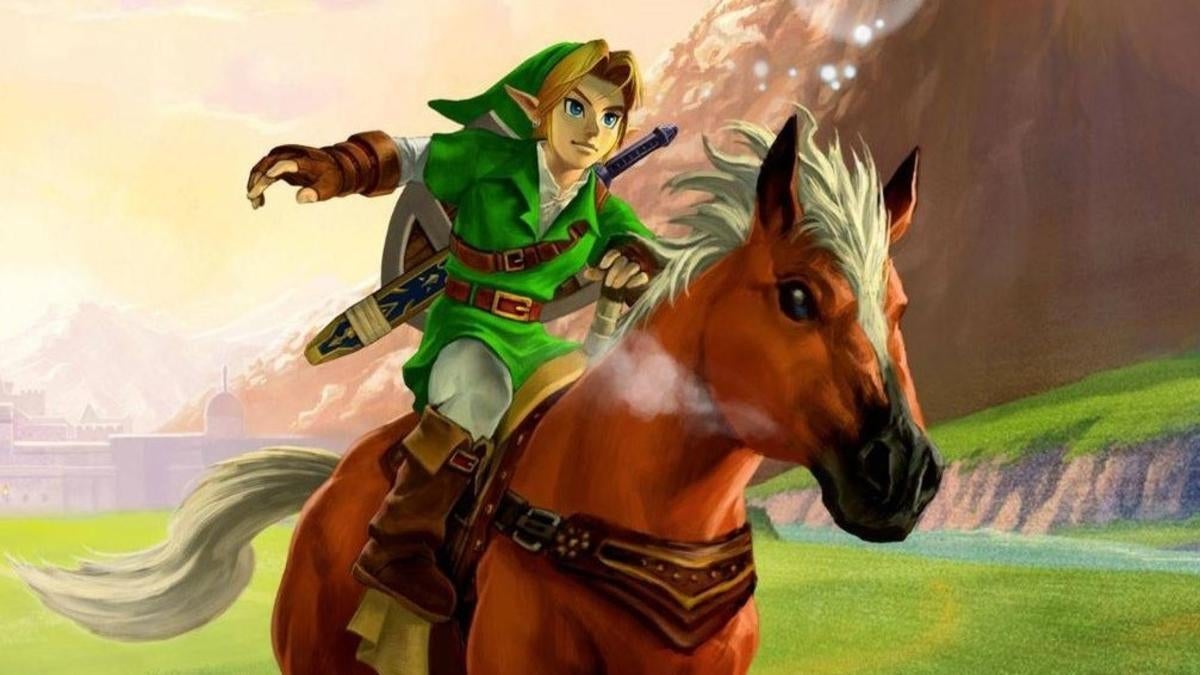 Ocarina of Time may have just been updated on Nintendo Switch
It looks like the version of The Legend of Zelda: Ocarina of Time which is playable on Nintendo Switch via Nintendo Switch Online may have just received a notable update. When Ocarina of time first arrived on Switch Online a few months ago, fans were quick to complain about the bad version of the iconic game that Nintendo had made available through the service. This backlash was so severe initially that complaints started spreading on social media for a while. Now, thanks to what looks like a recent update that rolled out to Nintendo Switch this week, it looks like Nintendo has potentially taken those complaints to heart.
As spotted by user @OatmealDome on Twitter, it looks like the visual fidelity of The Legend of Zelda: Ocarina of Time has been slightly improved following the latest Switch update. When the game first came to Nintendo Switch Online, one of the most common areas of Ocarina of time that players complained about involved the Water Temple's Dark Link boss fight room. Compared to the original iteration of the game, this Switch version had no fog in this area and the water on the ground looked pretty poor. Based on new images that have now been posted by @OatmealDome, the water in this room has now been changed from what it was before.
[NSO – Nintendo 64]

It looks like the water in the now infamous Water Temple room has been fixed in the latest update? I think the fog is still missing, though.

I haven't checked the rest of the game to see if any of the other issues have changed, but it's promising. pic.twitter.com/wcoG3hIxu2

— OatmealDome (@OatmealDome) January 21, 2022
Although this is not a major change for Ocarina of time in the grand scheme of things, this patch shows that Nintendo is clearly listening to fans when it comes to their complaints about how these emulated ports work. In reality, Ocarina of time isn't the only Nintendo Switch Online title that has had issues since launch. paper mario, for example, has been a game plagued with crashes and lags for some players. It remains to be seen if Nintendo has a plan in place to fix all of these lingering issues, but it sure looks like the Japanese developer is now trying to address these issues.
Have you noticed any visual improvements to The Legend of Zelda: Ocarina of Time on Switch last week? And if Nintendo continues to improve the quality of these emulated ports on Nintendo Switch Online, would that make you consider upgrading to the higher version of the service? Let me know in the comments or message me on Twitter at @MooreMan12.
[H/T VGC]
FOLLOW US ON GOOGLE NEWS
Read the original article here
Disclaimer!
The News Motion is an automatic aggregator of all the media in the world. In each content, the hyperlink to the main source is specified. All trademarks belong to their rightful owners, all materials to their authors. If you are the content owner and do not want us to publish your materials, please contact us by email –
[email protected]
. Content will be deleted within 24 hours.