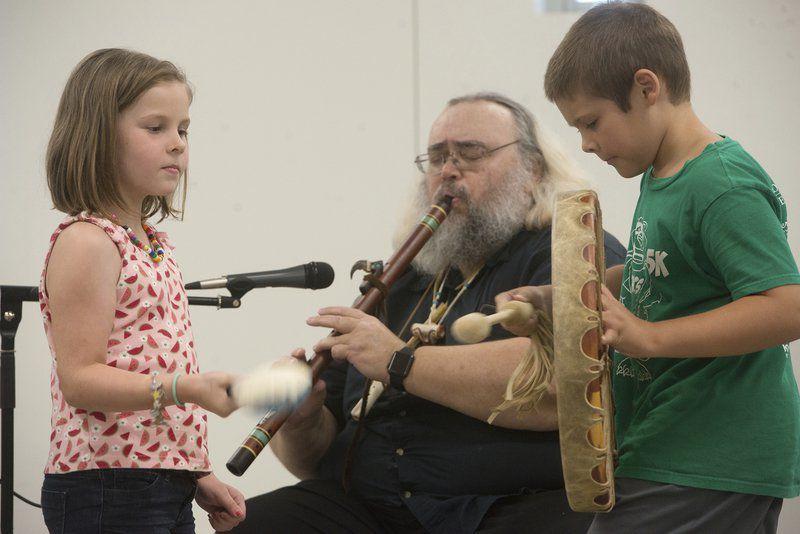 Native American Flutes, Other Instruments Provide Glimpse of History | Local News
It seemed like a perfect fit.
Mark Barger knew what it was like to move from place to place because of his former career as a US Air Force pilot.
So the name "Wandering Bear" was meaningful to a man who lived in 10 states and overseas before moving to Joplin, where he works as a Quality Area Manager for an AT&T store. Add to that his career as a sergeant with the Colorado State Patrol, from which he retired in 1998 due to injury.
"Since the state patrol officers were called 'Smokey Bears,' it wasn't hard to guess what my Native American name should be," Barger said. "I guess it's going pretty well."
On Tuesday, the Joplin Public Library hosted "Wandering Bear" for a presentation with community members to give them a glimpse into the history of not only Native American flutes, but a host of instruments developed by them. Native Americans.
Barger, who is not of Native American descent, has dedicated himself to sharing his passion for Native American flutes with others, with his 33-year-old wife, Carolyn, who is of Chickasaw ancestry.
In fact, it was his wife who gave Barger his first flute for Christmas almost 13 years ago.
"She went to a powwow with a few of her students and was amazed at the sound the flute made," said Barger. "After that, she bought me one, and I took it very quickly."
Currently, he owns 80 to 90 flutes. The number was over 100, but he has given a few over the years.
Usually playing for an older audience, he branched out to play at universities and places such as the Joplin Public Library in order to reach more people. He teaches flute lessons to people across the tri-state region.
"As I grew up there for years, I don't really do concerts anymore, so I had to find another way to share my passion with other people," said Barger.
Barger said that when he was growing up he was not inclined to music. But he finally learned to play after retiring from the Colorado State Patrol in order to try something new.
"The first time I played it felt like the flute was talking to me," said Barger. "Something inside of me just clicked and we left."
He brought this passion to four Native American Music Awards nominations.
Barger said that what makes learning the Native American flute easier and fun compared to other instruments is its simplicity.
"What I love most is the reaction to the people I play for and seeing others learn to play too," he said. "It's always gratifying to see people who don't think they can play music end up learning how to do it."