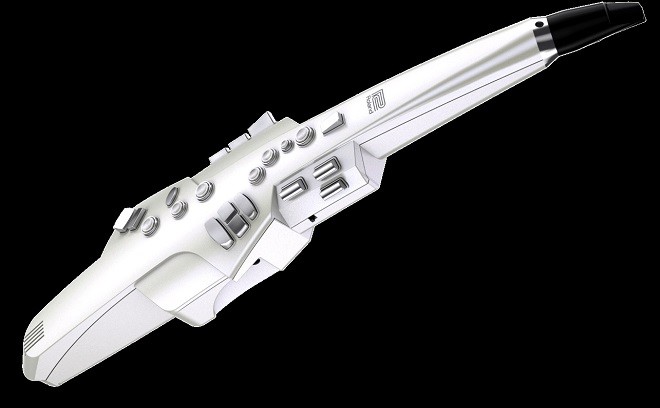 Musicians stuck at home make synth wind instruments a hit
Consider the saxophonist's pandemic dilemma: how to play at home in a Japanese apartment, known for its paper-thin walls, without making your neighbors want to kill you.
In a pre-COVID-19 world, Japanese musicians had the luxury of rehearsing in one of the many studios spread across the country.
Many studios are still open, but for some musicians, the fear of catching the new coronavirus is enough to keep them from going.
Those who are stuck at home are therefore turning to digital wind instruments that they can play while listening to the results through headphones.
Sales of the wind synthesizer, one such instrument, have skyrocketed since the start of the pandemic last year, with beginning musicians and the elderly making up many buyers.
"With fewer face-to-face lessons available, the Wind Synthesizer has gained attention because you can play it at home anytime," said saxophone player Mana Arakawa, who praised the wind synthesizer on her YouTube channel.
In mid-February, Arakawa gave an online music course to Takumi Ito, 38, company employee, from his home studio in a residential area of ​​Tokyo.
"I almost never can go to a studio (due to the pandemic)," Ito lamented on the computer screen, speaking from his home in Kawasaki.
"Let's work on what we can do for now," Arakawa said, before starting the lesson.
Ito was holding a YDS-150 digital saxophone, which was recently released in November 2020 by leading manufacturer of musical instruments Yamaha Corp.
Available for around 100,000 yen ($ 924), the instrument made by the Hamamatsu-based company has become popular for its fingering, which is similar to the saxophone.
The first batch of several thousand sold out immediately and the company is now accepting reservations for the next one, which will arrive this summer, he said.
"It's great for me, because I feel free to play it without having to worry about my neighbors as long as I'm using headphones," Ito said of the digital saxophone.
The YDS-150, which is known as an electronic or digital wind instrument, is shaped like a recorder, which made it popular with beginners, and plays by breathing in it and covering the holes with its fingers.
Musicians who play it can easily recreate sounds from instruments such as saxophone, piano, and synthesizer.
Wind synthesizers, available in many varieties, are widely used for creating computer music and other compositions, live performances, and practicing wind instruments at home.
The EWI electronic wind instrument series that resembles wind instruments is offered by inMusic Japan KK based in the Minato district of Tokyo.
The instrument has been running out of supply since the spring of last year, when Japan declared a state of emergency over the pandemic.
Its overall sales saw a double-digit increase in 2020, the company said.
The Akai EWI Solo model, released in August last year for beginners and sold for around 60,000 yen, features 200 built-in sounds for the player to experiment with.
The first shipment of several hundred products sold out immediately, and Akai had two and a half times more order reservations than he had stock to fill. Customers who place new orders may receive the product in or after June, inMusic Japan said.
The Aerophone series from Roland Corp. is easy to play as a recorder and allows the player to produce a variety of sounds with breath control. The Aerophone mini AE-01, which the leading manufacturer of electronic instruments, based in Hamamatsu, launched in the fall of 2019 is a very good seller. The instrument, designed for beginners, sells for around 36,000 yen.
"Many older people are starting to play (digital) instruments after getting stuck in home lifestyles, saying they can enjoy playing even if they have low lung capacity," said a Roland representative. .
"A growing number of people seem to enjoy playing electronic instruments at home in a relaxed manner, as they don't have to worry about the sounds echoing around the neighborhood when using headphones," said one.n official of the Japan Musical Instruments Association, based in Tokyo, which brings together around 500 manufacturers, wholesalers and retailers.
Caption 1: "With a fingering arrangement similar to the saxophone, it is easy to play," Mana Arakawa said of the Aerophone AE-10, a digital wind instrument, which sells for around 86,000 yen ($ 794 ). (Provided by Roland Corp.)
Caption 2: Mana Arakawa, Head of the Favorite Music music class, gives an online course with the Akai EWI Solo electronic wind instrument in Tokyo on February 18. (Kenichi Shindo)
Caption 3: "You can customize the settings to enjoy the instrument in your own way. It's also user-friendly, with a built-in speaker," Arakawa said of the Akai EWI Solo. (Provided by inMusic Japan KK)
Caption 4: The YDS-150 "digital saxophone offers a wide range of 56 saxophone sounds, while the fingering is roughly the same as the saxophone. It is recommended as a" bridge "for those who want to start playing the saxophone "Arakawa said. (Provided by Yamaha Corp.)