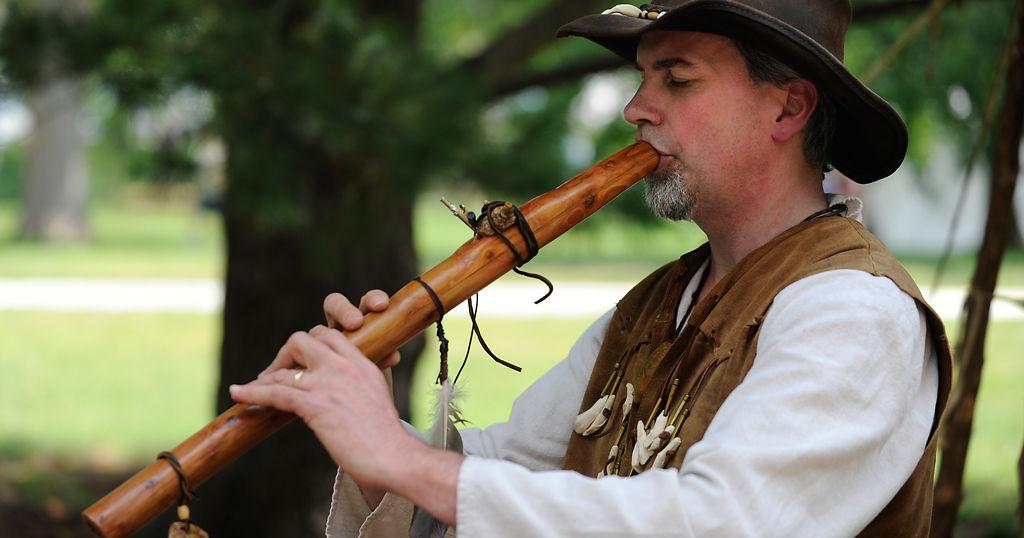 Missouri man connects to the past with wooden Native American flutes | Local
COLUMBIA — Even with leg pain bad enough to require surgery, Jay Hickman was taking a long hike several years ago in the Garden of the Gods, a geological wonder in Colorado Springs, Colorado.
Afterwards, looking for a place to rest, Hickman heard music. Searching for the source, he found a man, dressed in full Native American attire, playing a wooden flute.
"It was like every ancestor or all of history had passed through me in that split second," Hickman said of the encounter. "It was probably the most spiritual moment of my life."
He left briefly to reunite with his family. When he returned, the man was gone, but the wooden flutes remained. He took the time to examine one of the instruments and the finger holes in the top.
"I decided to go home and make one," Hickman said. "I made a promise to myself that I wouldn't fall asleep until I did."
Two days of uninterrupted work later, he had made his first Native American flute out of wood.
More than eight years and 60 wooden flutes later, Hickman's interest in Native American history and traditions continues to grow. This weekend, he's sharing it at Columbia's annual Heritage Festival and Craft Fair in Nifong Park.
"I did everything completely backwards," he said. "I learned to make flutes, I learned to play them, then I learned history."
The history of the Native American flute is strongly linked to myths and legends passed down orally from generation to generation.
Unlike the familiar concert flute, a wooden flute is held in front, like a clarinet. These flutes are keyless and air is blown into the top, not the side, of the body. Different notes are played by covering and uncovering the holes.
Commonly tuned to a minor pentatonic scale, the tone is anxious and mournful. The flute player can use a vibrato effect to vary speed and pitch and add expression to the music.
"I sit in front of a campfire and carve my flutes by hand," he said. "It's something I want to keep as true to the legacy as possible."
The process takes three weeks, starting with a section of softwood, such as cedar, sycamore, or pine. With a piece of flint, Hickman splits the wood in half and then scrapes out a small channel.
Then hot coals are placed in the channel to slowly burn a deeper chamber. To find the location of the holes in the top half of the instrument, Hickman said he used his hands and thumbs as measuring tools.
"I use Elmer's Waterproof Glue to glue the two halves together," Hickman said. "Native Americans would have used pine tar, but the glue helps the flute last longer."
Playing the flute is the easy part, he says. The challenge is to tune the instrument using a small square of wood called a "bird" or "block".
The bird sits on a channel, sometimes called "the nest", near the mouth. Inside are two chambers, and air blown through the flute can travel between them via the upper channel, creating a distinctive sound.
"There are equations and scientific ways to make it perfectly accurate," Hickman said of tuning a flute. "I don't want to do it like that. For me, it's to find the personality of wood."
The Heritage Festival is one of Hickman's favorite events each year. On the first day, he installs a cedar lean-to where he lives on weekends. Tables covered with Navajo blankets present the different stages of his flutes, from the basic wooden piece to the finished product.
On Saturday, children, parents and others gathered around the Hickman area at the festival, asking questions about a dozen flutes lined up on the tables.
Hickman responded to each, either with a demonstration or by allowing a visitor to hold one of his flutes.
If the crowd grew thin, Hickman would pick up a flute and play one of his own compositions, "Spirit In Two Worlds". The music would travel to nearby kiosks, attracting more visitors, and the educational cycle would begin again.
Although sheet music is available, Hickman said he created his own. He says playing the flute allows him to communicate his feelings in a way that speech cannot.
"I believe when you play the flute you are telling a story," he said. "And the person listening adds their story to yours. That's my goal every time I play."
Hickman grew up in rural Yucatan, Missouri, in Callaway County, where he learned woodcarving at the age of 9. His grandfather and father farmed land that had been in the family for over a century.
Curiosity about the past runs deep in the family, he said. His great-uncle on his father's side, Earl Hickman, was devoted to the family's Cherokee heritage.
"My parents were very curious about our heritage, the archaeology, anything you could imagine," Hickman said. "So when I was growing up, we were never standing still. We were working or exploring."
Hickman, who now lives in Fulton, continues to explore and learn as much as he can about Native Americans, and is motivated to share what he learns with others.
A month ago he joined an organization called American Indian Movement. Its purpose is to help those living on reservations and to eliminate Native American stereotypes by educating the public.
"There's no way I can, in 20 lifetimes, learn it all," Hickman said. "It's something that I really like to convey during the Heritage Festival and by playing my music."
The Heritage Festival continues from 10 a.m. to 5 p.m. Sunday at Nifong Park, 2900 E. Nifong Blvd.