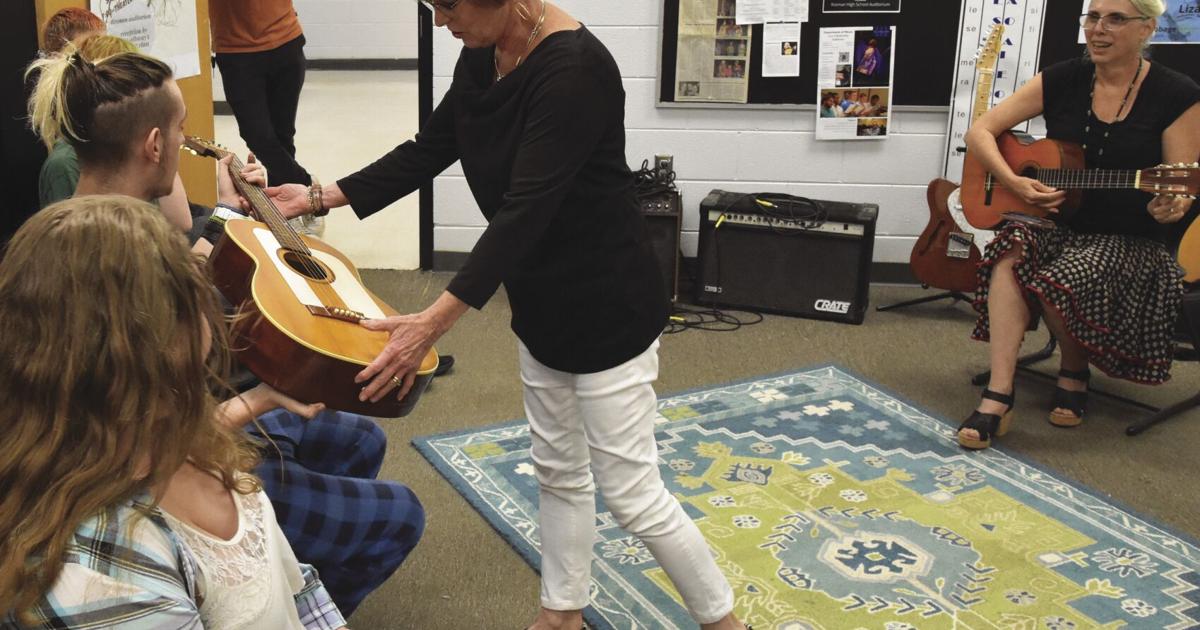 Gift of the 100th musical instrument | Arts
Seven years ago, a Brevard High student's violin was destroyed by the weather while she and her family were living in a tent.
The story of this homeless young girl, who regularly volunteers to organize Brevard Philharmonic concerts, inspired one of the orchestra's violinists, Aleta Tisdale, to launch a program allowing students to play music regardless of their financial situation.
"I just had this idea," Tisdale said. "I wonder how many kids would love to play but can't afford the instrument?"
On Tuesday, Tisdale and Philharmonic Orchestra Board President-elect Carole Futrelle presented the 100th instrument in the Brevard Philharmonic Orchestra's Donate Your Instrument program to Rosman Middle School.
The program collects donated musical instruments, pays to repair them, and then donates them to county schools so teachers can distribute them each year to students who can borrow them for as long as they stay in class.
Besides the many flutes, clarinets, drums, saxophones and trumpets, the program also repairs violins, mandolins, guitars and other stringed instruments.
Hazel Ketcham, one of Rosman's music teachers and also director of the Mountain School of Strings, was thrilled to receive three classical guitars on Tuesday.
"No one will be inspired to play classical guitar if we don't have classical guitars," said Ketcham, who quickly tuned all three guitars in front of his students. Ketcham, who is a trained classical guitarist, played a tune on one of the newly restored instruments demonstrating strumming and Spanish chords, then handed them out to three students to try out.
"Isn't that pretty?" she asked them.
A flute was then given to Katerina Canter, director of the Rosman Orchestral Program, who teaches middle school and high school orchestras.
"2021 has been an exceptional year," Tisdale said. "A local family donated 12 instruments and also paid for any restoration costs incurred for the donated instruments, an extremely generous gift to the community."
Every middle school and high school teacher in Transylvania County is contacted and instruments are assigned based on the needs of each school.
Since the program's inception in October 2015, more than $5,000 in cash has also been donated to repair broken strings, clean cases, polish brass instruments, repair cracks and replace pads so instruments can be playable again. .
On Thursday, Tisdale will deliver a saxophone and trombone to Brevard High School, setting the count at 103 donated instruments.
"If you know someone who has an instrument that's not in use, I know someone who will take that away from you, get it fixed, and put it in the school," Futrelle said. "Our neighbours' children deserve the same chance as everyone else. If you learn music now, you'll love music forever.
More instruments and money to repair them are needed to continue the program.
Donations will be gladly accepted at the next Brevard Philharmonic concert, "Tchaikovsky and Shostakovich," at the Porter Center on September 25 at 3 p.m.
Visit www.brevardphilharmonic.org or call (828) 884-4221 for more information.