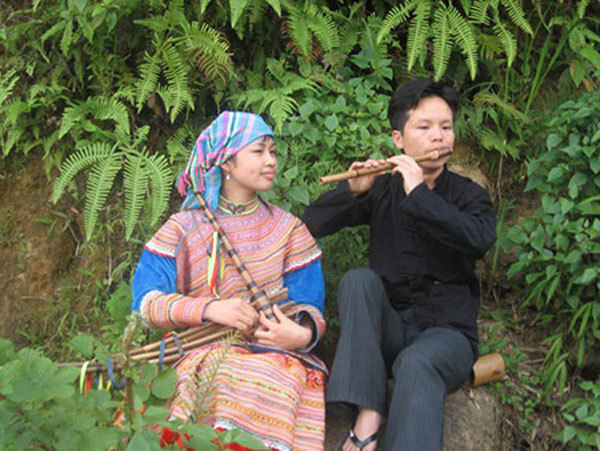 Young people often start businesses with modern concepts revolving around computers, food or fashion, but three Mong men from the northern province of Lai Chau started their own with a passion for traditional musical instruments from their ethnicity.
Ma A Chang is pictured with his bamboo Mong flutes. VNA/VNS Photo Việt Hoang
Ma A Chang, Sung A Khoa and Vang A Thanh set up a workshop that makes traditional musical instruments of the Mong ethnic group such as bamboo flutes or khèn (pan pipes).
The Mong flute, also known as the Meo flute, is an indispensable part of traditional Mong festivals.
Besides providing a source of entertainment, it is also traditionally a way for boys to express their love for the girls in the village.
Besides providing a source of entertainment, the bamboo flute is also a way for Mong boys to express their love for village girls. Photo dantri.com.vn
The creator of the flute workshop is Chang, 27, from Sin Cau village in Giang Ma commune of Lai Chau district.
Under the guidance of his father, he started learning to play the bamboo flute at the age of 10 and soon realized his love for musical instruments.
He has been making flutes since he was young. The flutes, despite their simplicity and roughness, fueled his passion for the traditional arts.
Growing up, Chang continually practiced perfecting his flute sound. After graduating from grade 12, he held various jobs but still harbored the dream of making his ethnic musical instrument known by opening a flute shop.
The art of making bamboo flutes in the Mong community gradually fell into oblivion with the onset of modernization. Many older craftsmen have become too weak while the younger generation has lost interest in traditional values.
Taking the first step towards realizing his dream, Chang began studying how to start a business. To make it less risky, the young man contacted friends who shared the same passion to create the workshop.
"At the beginning, I encountered many difficulties in finding trustworthy people to join my company," Chang said.
"Sometimes I thought I should forget my dreams to do other jobs. However, passion drove me to move on and not give up.
"I went to Facebook to find young friends who were passionate enough to join my business. Fortunately, I met Sung A Khoa, 34, from Mu Cang Chai district, Yen Bai province, and Vang A Thanh, 25, from Nam Po district, Dien Bien province.
Their shared love for music allowed the three men to work on the same page. In August last year, after accumulating enough money, they rented two houses in Tam Duong district, one to make musical instruments and another to display finished products. They also hired four locals as workers in their workshop.
"I have long been interested in my ethnicity's traditional bamboo flutes, but I normally only play them on special occasions like New Years or other traditional holidays," Thanh said.
"I never thought I could open a store to sell and teach others to play Mong flutes until I met Chang."
To increase the quality and quantity of products, Cháng and his friends invested in machines to facilitate production such as drills, polishers and paint sprayers.
However, they prioritize quality over quantity and therefore demand thoroughness from their workers.
A Mong flute has two main parts – the mouthpiece and its body. It may seem simple, but it takes time, skill, and perseverance to complete a piece.
The workshop provided stable jobs for eight residents. VNA/VNS Photo Việt Hoang
Five months after its opening, the workshop now employs eight inhabitants, five of whom have been professionally trained in both technique and music theory.
"Before, I worked as a carpenter, but it was hard work and my health was badly affected by sawdust. Through a friend, I applied for a job at the flute workshop and have been working there for two months. My income is also more stable," said Hang A Chung from Son Binh commune.
One of the main goals of the workshop is to create jobs for locals, Chang said.
"Each worker can earn between 4 and 6 million VND (170 to 260 USD) per month. On the other hand, we want to arouse young people's attention and interest in traditional art, spreading the beauty of Mong flutes," he added.
Due to the impact of the pandemic, flutes are mainly sold on social media platforms and through word of mouth. They were also featured at the Third Mong Ethnic Culture Festival in Lai Chau Province last December.
The workshop's flutes are on display at the third Mong ethnic culture festival in Lai Chau province last December. VNA/VNS Photo Việt Hoang
In the future, the men plan to diversify their products, covering more ethnic musical instruments like the khen (pan flute), in addition to gathering flautists across the country to open professional training courses to teach people. youth.
They look forward to one day bringing Mong flutes to the public via mass media so that their delicate sounds can travel far and wide.
Source: Vietnam News
Keep alive the song of the bamboo flute
A dirt road, more than 10 km long, slippery and steep, stretches from the center of Muong Dang commune, Muong Ang district, northern province of Dien Bien, to the village of Chan II – home to 64 families from the Mong ethnic minority.
Khen (panpin) – soul of the Mong ethnic group
Although modern culture has been present in every corner of the mountainous hamlets, the passion for the melodies of Khen (panpin) has never ceased among the men of the Mong ethnic group.